EuroHash 2017 Post-Lube in Bratislava, Slovakia
Thank you to all that came and helped us celebrate the EuroHash 2015 (yes, that is correct) Post-Lube in 2017 in Bratislava.
Except for Going Commando of Catch the Hare H3, who did not deign to register, lied about it, crashed our party without bothering to Hash with us, and (initially?) refused to pay her bar bill after the tab had closed.
(a mere 63 km from Wien Hauptbahnhof)
Date: Tuesday, 11.07.2017
Time: 15:00
Pre-Registration at EuroHash 2017 registration venue
Included: Runners and walkers trails, drinks and food
Luggage lockers available at hlavná stanica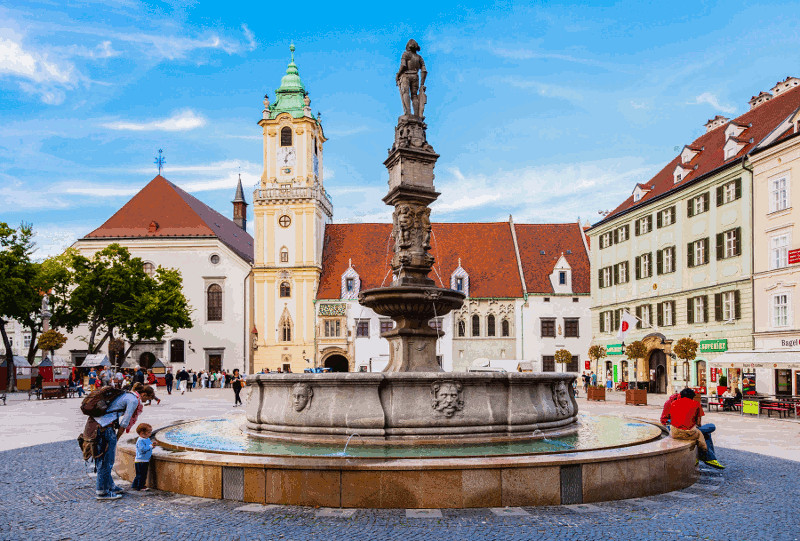 Party train: Wien Hbf: 13:16 -> 14:22 Bratislava hl st.
Last return train: Bratislava hl st.: 22:38 -> 23:43 Wien Hbf
The Bratislava Ticket will get you from Wien to Bratislava the cheapest and also includes a Day-Ticket on all public transport in Bratislava!
(Careful, many trains from Vienna go to the wrong station. If you're late, we no wait.)
Either stay in Bratislava or head back to Vienna after dinner
Or take the Cross-Border Ferry Twin City Liner
Vienna 09:00 -> 10:15 Bratislava (Old Town)
Vienna 12:30 -> 13:45 Bratislava (Old Town)
Cost: EUR 10 per hasher
Contact: Bratislava2017 @ harrier.ch
Registered
Handle
Run fee (EUR)
1
Polly
0
2
Likk'mm
0
3
Goldilocks
0
4
Grassy Arse
10
5
Trigamist
10
6
Something Blew
10
04Whore
10
7
Bettie Boop
10
8
McTaf
10
9
Subaru In My Tutu
10
10
Down Wendy
10
11
Blind Doug
10
12
Ringmattress
10
13
Mary Tyler Moore
10
14
Warbler
10
15
Timekeeper
10
16
Filly Distilled
0
17
Left Beer Hind
0
18
Absolutely Not a Lesbian
0
19
Big Spender
10
20
Skuddy
10
21
Mother Theresa
10
22
Dr. Flatus
10
23
Sniffa Dog
10
24
Tonguelasher
10
25
E=I'm a Douche
10
26
BATT
10
27
Delhi Belhi
10
28
Multiple Entry
10
29
BABE
10
30
Bonio
10
31
Cum Dancing
10
32
KitKat
10
33
Soup Dragon
10
34
Utterly Butterly
10
35
Commercial Whale
10
36
Alice
10
37
Herr Linguist
10
38
Cunni Linguist
10

Late Registrations
39
Mind The Gap
10
40
Kunt Tell Ya
10
41
Sinex
10
42
The Bag
10
43
The Bag's Friend
10
44
The Bag's Friend
10
45
A Nother
10
46
A Nother's Friend
10
47
No Balls Prize
10
48
Special Needs
10
49
Stormin' Normin'
10
50
Beetroot
10
51
Street Meat
10
52
KGB
10
53
Snake Charmer
10
54
Snake Charmer's friend
10
55
Mr. Pink
10
56
ANAL's daughter
10
57
Richard Kopf
10
58
Nail Me
10
59
????
10
60
????
10
If your name is not on this list, there will be neither drink nor food reserved for you
Updated: 12.07.2017 09:00
Check this page before departure, updates forthcoming